Here is my personal take on photo books-
I like them for gifts.
That is all.
As you know, we are "picky" about our prints. I prefer the look, feel & longevity of my silver halide photo paper, but this post is specifically about our books.
Sure, we can print a photo book, but do we have the equipment to print the BEST photo book at a reasonable price? Nope, we don't.
Printing a photo book is a BIG process.
First, your layouts have to be set up in the correct PDF format (our software does this for us). Otherwise, you will have one page upside down, facing the wrong way, etc. etc.
Then, there is the printing.
No one photo book company is the same as the other. 99.9% outsource their photo books.
High quality duplexing printers cost hundreds of thousands of dollars. The paper must be cut in stacks with a cutter, and then bound. Not to mention what it takes to produce a custom cover.
We could fulfill not so great photo books, but again, we are Persnickety. We feel like the photo books we offer from our outlab are the best quality at the lowest price. Your Persnickety books are printed on an HP Indigo Press machine, 110# archival paper, and "perfect bound" (glue + stitched). You are also able to completely customize your own cover. The custom cover photo books can also include up to 200 pages.
Each year for Christmas, it is now expected that I create a photo book for each Grandparent. I love that they arrive packaged in their own silver embossed box, topped with tissue paper. Fancy Shmancy!
Here are the two 10x10 photo books that the G-ma's will get this Saturday. Each book flowed well thanks to
Biograffiti's ABC Album
and Cinzia Loosemores
Grateful Heart 12x12 Album
. No need to resize a 12x12 to print a 10x10. Also, if you are wondering,
here is a quick tutorial
on how to create a book in our software.
I wanted to show you how photo books can vary from one company to another.
I printed my 10x10 at our lab and another 8x8 at Shutterfly. Exact same files. I like that our covers wrap all the way around.
Notice the color difference. Now, even though I am a print freak- I do know that every monitor and print will vary, but it shouldn't be this different.
The Shutterfly book is over saturated. (shutterfly on top) When this happens, the colors are brighter than normal- but so are the skin tones. The images will start to look blotchy, not smooth. This ABC Album is intended to be muted - not so bright. My Persnickety book is nearly spot on with color.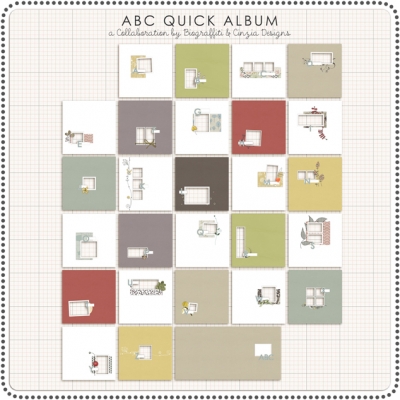 Notice on the top book- the leaves and her face are more "orange".
I really like how the colors turned out with my Persnickety books. I can't wait until Christmas morning to see how excited my Mom & Mom-in-law are when they open them! For my other book on the left- I used Cinzia Loosemores
Grateful Heart 12x12 album
and because it came layered, I was able to change it up some to fit a more general 2010 theme.
Ok- so it takes a LONG TIME to make a photo book, right? Maybe you want a copy for yourself, but you don't want to pay oodles of dollars for copies. Never Fear-
You can still print any size with those same 12x12 files! Your images are already uploaded into your Persnickety account, so it's easy.
I went next door to our craft store and bought this 6x6 Mini Album from American Crafts. $5
Printed 20 6x6 pages of my photo book- again, no need to resize or change a thing as long as you are printing the same aspect ratio. I love my silver halide prints. $14.22
And now I can enjoy the countless hours it took to create photo books for the G-ma's, in my own little version!
-Chari